Advanced previewing and QA workflow
Seamless creative offers you the option not only preview your changes, but see your original and adjusted creatives side by side. Next to that the preview section also contains a full commenting option, allowing to collaborate with your colleagues and even maintain a QA workflow.
Why our clients love our solution
Desiree Stroet
Campaign Specialist

Creating campaigns was never faster and easier. The flexibility of Seamless Creative is really great, we are able to create a completely new banner within minutes. It is a tool that is easy to use and it helped us a lot with many destination specific campaigns, including positive results.
Eva Rindfleisch
Brand Digital & Communications Manager

We really enjoyed working with Incubeta. They helped us navigate through all technical and creative parts of the project. Their flexible and proactive way of working really matched our spirit at L'Oréal.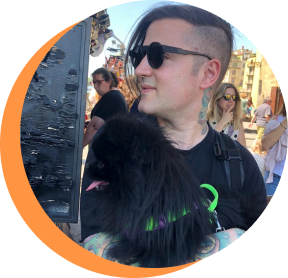 Ara Salbashian
Media Team Lead

Incubeta is an important partner in developing dynamic creative automation. With their media expertise and technical knowledge, we have created 6 dynamic creative templates which use a multitude of signals. This has allowed us to personalize our creative strategy for our audiences based on every step of the funnel. In addition to these templates, DQ&A have provided extensive hands-on technical training and support to enable our team to scale our dynamic programmatic media offering.
Does Seamless Creative Support other DSPs than DV360?
Yes. Seamless Creative connects to Campaign Manager for the serving of the ad. From there the creatives can be pushed to DV360 or any other DSP via importing the Campaign Manager tags.
What is the delay between publishing in Seamless Creative and the content being live?
Seamless Creative pushed the data instantly and any delay is due to the connected technology. For Google Studio this means a delay of max 2 hours, since it refreshes the input data every 2 hours.
Is there a limitation on how many creatives I can have running through the system?
No. Seamless Creative is build to handle a large amount of creatives. This is done via Stories, which can easily be grouped in projects, allowing to properly organise campaigns with multiple flights in them.
Can I plug my current creatives into Seamless Creative?
No. Seamless Creative is built to support custom creatives instead of generic templates, but these custom creatives do need to be build to fit Seamless Creative. Therefore Seamless Creative must be seen as the perfect platform to operate the amazing creatives that are developed by our creative teams.
Can the in platform previewed creative differ from the actual live creative?
No Seamless Creative uses the actual creative assets to render the previews, ensuring that there is no difference to the in platform preview and the actual live creative.